Firefox Download Manager Integration
V. 2.6.8.37 - Friendly Security
If you find any bug or you'd like an enhancement, please report here or here. Many thanks!
Main good news
The new additional script blocking policies have been made more consistent with other features (e.g. the XSS filter)
NoScript's toolbar button is now friendlier to other Australis-enabled add-ons.
Work-around for Firefox's Bug 1044351 (thanks al_9x for RFE)
Anti-XSS protection against new insidious ES6 constructs introduced in Firefox 34 (thanks .mario for reporting)
Experimental "Allow HTTPS scripts globally on HTTPS documents" mode (thanks the Tor Project for RFE).
Yahoo! "DARLA" ads loader post-execution surrogate prevents the browser from stalling due to the many window.name-based XSSes intentionally used by this ads delivery script.
Updated Script Surrogate replacements for connect.facebook.net and adf.ly.
Fixed serious compatibility issues with some add-ons on Firefox 31.
Per-window "Recently Blocked..." submenu, plays nicer with Private Browsing.
Better synergy with Firefox's built-in Click-to-Play feature.
Improved compatibility with new Add-on SDK features.
Work-around for the directvid.com video player using the wrong content-type to serve JavaScript files.
New NoScript Options|Advanced|Trusted|Cascade top document's permissions to 3rd party scripts preference for users who prefer the convenience of whitelisting just the top-level domain to make everything work on the fly over the higher security provided by the default finer-grained policy.
New NoScript Options|Advanced|Untrusted|Block scripting in whitelisted subdocuments of non-whitelisted pages prevents scripts from running in iframes even if whitelisted, unless the top-level document's site is whitelisted as well.
Fixed XSS false positive in the new gmx.com webmail login and in other services (e.g. mail.com) using the same back-end.
Better compatibility with script inclusion enforcers such as Require.js.
Safer toStaticHTML() implementation (thanks .mario for reporting).
Several XSS filter improvements (thanks Masato Kinugawa for reporting).
CAPS-independent, finer-tuned version of the "Allow local links" feature.
Better ClearClick compatibility with recent Youtube changes.
New Script Surrogate for addthis.com scripts emulation.
Fixed bugs in regexp-based embed blocking exceptions (thanks barbaz for reporting)
Fixed ClearClick incompatibility with latest Google+ based Youtube comments system.
No Google Analytics, because NoScript blocks every cross-site request to GA, no matter the type or the file name).
New "Security Downgrade Warning" suggests blacklist mode as a better option than uninstalling, in order to retain scripting-unrelated protections.
Improved Google Analytics Surrogate, makes more sites work correctly with google-analytics.com blocked.
Holding the left mouse button down on an absolutely positioned page element and hitting the DEL key will remove it if scripts are disabled (useful to forcibly kill in-page popups). This feature can be disabled by setting the noscript.eraseFloatingElements about:config preference to false.
Right-clicking on NoScript menu items copy site domains to the clipboard (useful for reporting and investigating sites, thanks Tom T. for RFE)
Browserid.org has been added to the default whitelist.
"Click to play" protection against WebGL exploitation, now also on whitelisted sites (can be enabled in NoScript Options|Embeddings)
Security and Privacy Info page is shown whenever you middle-click on sites exposed by NoScript's UI, either in the menus or in the Whitelist options tab.
Middle clicking NoScript's toolbar button temporarily allows all on current page.
More in the
changelog
...
FlashGot, the best Firefox download manager integration, has been honored in the May 2006 issue of PC World, the most widely-read computer or business magazine, as one of the "101 Fabulous Freebies"
"Each download or service on the list impressed the editors with its functionality and usability," said Harry McCracken, VP/editor in chief of PC World. "These are some of the most well-crafted services available – congratulations to FlashGot!"
So...
Are you tired of "saving as..." one by one all those movies, music files, pictures, programs and so on? Are you sick of getting them sooo slowly? Are you afraid of losing them in the middle of download if you get disconnected or close your browser, being forced to repeat all that tedious work?
Well, you need a download manager...
But... Aaaargh!!! my download manager doesn't work with Firefox! They say it does, but where is my Download All menu? How can I handle the tons of mp3, mpeg, jpg files that I want to download?
Well, you definitely need...
FlashGot!
FlashGot is the free add-on for Firefox and Thunderbird, meant to handle single and massive ("all" and "selection") downloads with several external Download Managers.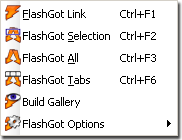 for Windows (BitComet, Download Accelerator Plus, DownloadStudio, FlareGet, FlashGet, Free Download Manager, Fresh Download, GetRight, GigaGet, HiDownload, iGetter, InstantGet, Internet Download Accelerator, Internet Download Manager, JDownloader, LeechGet, Mass Downloader, Net Transport, NetXfer (Net Transport 2), NetAnts, Orbit, pyLoad, ReGet, Retriever*, Star Downloader, Thunder (Chinese only popular product), TrueDownloader and Ukrainian Download Master [Russian language only] ), uGet, WellGet, wxDFast Xtreme Download Manager
for Linux / FreeBSD / other Unix-like OSes (Aria, Axel Download Accelerator, cURL, Downloader 4 X, FatRat, GNOME Gwget, FatRat, JDownloader, KDE KGet, pyLoad, SteadyFlow, uGet, wxDFast, Xtreme Download Manager ).
Many Windows-only download manager are supported on Linux through Wine!
for Mac OS X (Folx, iGetter, JDownloader Leech, Progressive Downloader, Speed Download and wxDFast*)

* wxDownload Fast for Mac OS X is currently available in source form only

FlashGot turns every supported download manager into a download manager for Firefox!
Is your preferred download manager not listed above? CLICK HERE
FlashGot offers also a Build Gallery functionality which helps to synthetize full media galleries in one page, from serial contents originally scattered on several pages, for easy and fast "download all".
Motivation
Since I switched from MS Internet Explorer to a serious browser, I've had only one regret: I've been missing the ability to handle "massive downloads" through a multithreaded, file splitting download manager.
In IE there was a "Download all with MyNice DownloadManager" menu item, which delivered every link on a web page to the download manager, ready to be choosen and downloaded in batch.
There was nothing like this on Mozilla/Firefox, so I decided to build my solution with my own hands... and it works pretty well (at least for me).
Now, after many releases, FlashGot is probably the most advanced form of browser integration for download managers, often better than the native one provided for IE, featuring:
a "FlashGot selection" command to selectively download items you highlight on the page (even pure textual links!)
a Build Gallery command, helping you to auto-generate complete media gallery from partial ones to download at once all the contents in a serie.
Convenient shortcuts and hooks for single downloads, like Alt+Click on a link and automatic interception of unknown content types, giving you the chance to override the default download manager when it is about to start.
(more in the features page)